Select the Right Thermal Printer to Improve Your Retail Operation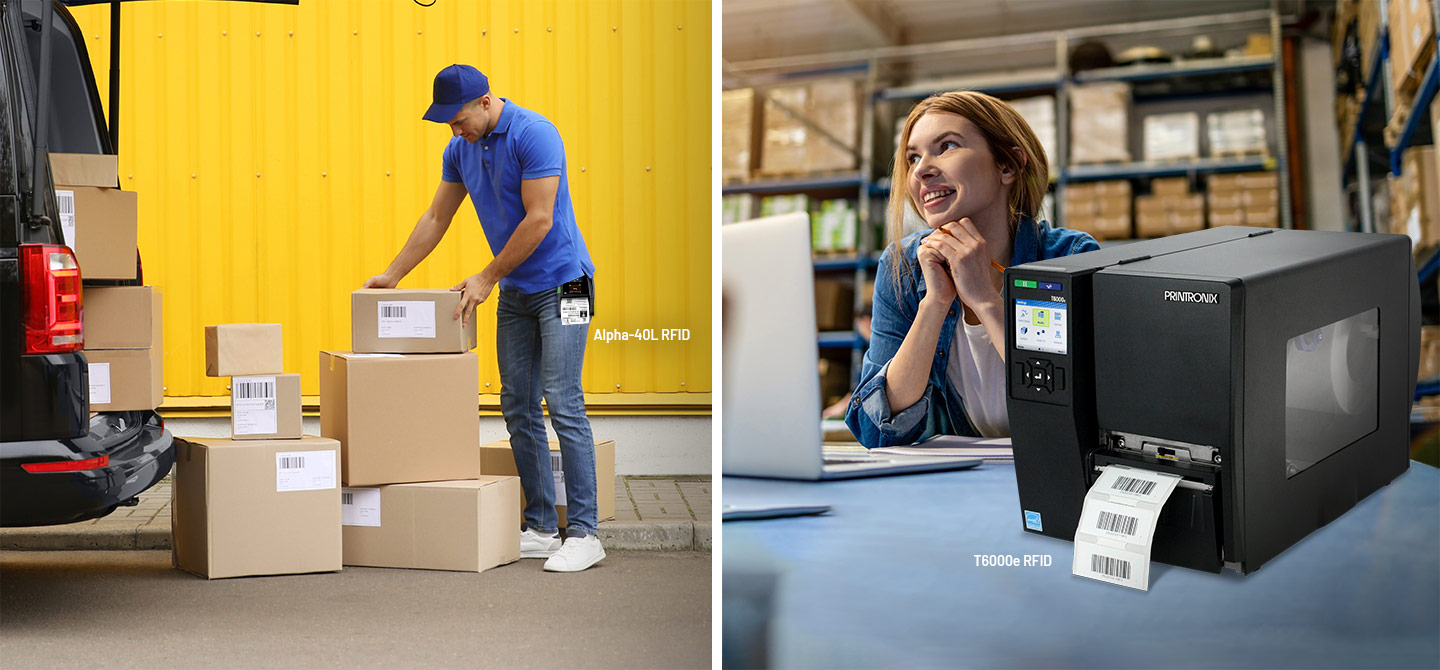 The retail supply chain is a complex and intricate operation that requires every player to operate at maximum capacity to ensure all goods get to consumers on time. Retail warehouses, stores, and the suppliers that service them all need operations to run optimally 24/7. Shipping goods with high-quality, readable barcodes, correctly marked with RFID tags, and using high-performance printers that support your operations is key.
Selecting the right printer for your retail operation is critical. From high-performance desktop thermal label printers to mobile printers for flexibility, all the way to RFID printers for a variety of applications, we have a printer to meet your needs.
Print Where Your Customers Are
Whether printing invoices on-demand for route deliveries or making easy price updates in store, you can work smarter with our Alpha-30L and Alpha-40L performance mobile printers that are packed with advanced features and outstanding usability. They are also equipped with top-of-the-line technology such as smart battery status that can be seamlessly integrated and managed with  SOTI Connect and TSC Console.
The Alpha-30R features a basic and premium model and is designed with advanced connectivity and a full line of accessories for all-day wear, great for printing receipts or barcode labels. The basic model offers support for receipt media, either in a continuous mode or black mark to find the top of the form, while the premium model offers a gap and black mark sensor to support a variety of receipt and label media. Both basic and premium models support linerless media.
We also offer the low-cost Alpha-2R, a high-durability mobile printer that is great for quick and simple labels and receipt printing for restaurants and fast food chains.
We recently introduced an innovative mobile printer that can also print and encode RFID: The Alpha-40L 4-inch performance mobile RFID printer. This printer is RAIN UHF compliant, user-friendly, heavy-duty, and drop-resistant to enhance worker mobility while printing on the go in challenging work environments. This is a great printer for suppliers who need to provide RFID tags on all products shipped to retailers.
RFID for Retail Suppliers
In addition to the groundbreaking Alpha-40L that delivers RFID printing capabilities in a mobile device, we also offer several other stationary RFID printers.
The T800 Series printer offers an affordable, compact RFID desktop printer to track products throughout the supply chain.
The T4000 Series printer is a great mid-volume printer that can print up to 5,000 standard and on-metal RFID labels and tags per day at up to 10 inches per second (ips). It's compact enough to fit in tight spaces and durable for regular enterprise use. The T4000 RFID printer features automated performance alerts so you can gauge productivity and address issues quickly for better efficiency.
The T6000e printers are great for suppliers who must tag their goods with RFID and who supply a variety of products made up of different materials such as fabric, glass, and metal. The T6000e provides a great solution for this type of application because it works with different label constructions. It enables users to print RFID tags easily and intuitively in house while switching back and forth between different label types.
Performance Desktop Printers
The TX Series 4-inch performance desktop printers offer high-resolution label printing with 600 dots per inch (dpi) print resolution and up to 8 inches per second (ips) print speeds. TX Series printers are very durable due to their double-wall design, making them great for applications in rugged environments such as warehouses.
The 4-inch TC Series desktop printers offer great print speeds up to 6 ips, offering great value for their price point. The DA Series printers offer flexibility and feature up to 300 dpi resolution, 6 ips printing speeds and multiple connectivity options.
TE Series desktop printers are the most budget-friendly desktop option enabling you to print custom labels for manufactured designs. They also excel at printing two-sided, two-color on-demand, small labels, and kiosk applications.
The TDP Series printers come in 2-inch and 4-inch varieties, both featuring a compact design and a high-performance print engine ideal for frequent use. TTP Series printers also offer 2-inch and 4-inch options and print 2D barcodes, fine text, and small graphics labeling. Similar to the TDP Series, the 2-inch printers can include a small LCD screen.
Our team is available to help you select the best retail printer for your business. Schedule a free consult with our experts online at this link.