Transportation & Logistics
Solutions that Will Keep Your Supply Chain Moving to Meet Market Demands
When printers aren't printing, global supply chains fail. For decades leading Transportation & Logistics enterprises have relied on TSC Printronix Auto ID for labeling requirements throughout their applications. For an industry that's constantly on the move, timing, efficiency, reliability, and durability are of utmost importance. Printing solutions from TSC Printronix Auto ID help transportation and logistics businesses face the demands of this major global market.
Compliance Labeling

With compliance fines on the rise, companies are looking to verify their barcodes before shipping. Printronix Auto ID offers exclusive ODV barcode inspection technology integrated printers. Our ODV-2D printers scan each barcode as its printed, strike through bad barcodes and reprint new ones. Printronix Auto ID is one of the only companies to offer an affordable 2D integrated barcode printer and validator.

ROI of Readable Barcodes

Say goodbye to expensive fees and returned or rejected goods. With compliance fees on the rise, the cost of a new ODV printer can be recouped by avoiding even one single fine. And unlike other validation solutions, ODV printers operate without user intervention, store a record of each label printed, and can be used in conjunction with RFID technology.
MH Series Performance Industrial Printer - The MH Series features is our flagship industrial barcode label printer with premium printhead technology, fast processor, and memory capacity to print high-quality labels at the fastest speeds.
T6000e Enterprise Mid-Range Industrial Printer -  Featured in RFID Journal's Top 10 Products of 2020, the T6000e sets the standard for productivity and versatility in fast-paced environments where speed, exceptional print quality, and advanced features are needed. 
DA Series Performance Desktop Printer - The DA Series features a user-friendly design ideal for a wide variety of applications including product marking, point of sale, retail, small office, shipping labels, and many more at a very competitive price.
T800 Enterprise Desktop Printer - The T800 high-performance desktop printer has industrial features and is built on the reliable Printronix System Architecture (PSA). This enterprise printer includes extensive Wi-Fi capabilities and top-of-the-line security and printer management.
RFID in the Supply Chain

As a manufacturer, retailer, or logistics service provider, you need to know exactly where your shipments of goods are at any time, where they have come from, and when and where they are due to arrive. Today's intelligent warehouse environments utilize a host of high-tech solutions including WMS software, RFID tags, and complex labeling operations. RFID labels offer the ability of non-line of sight data capture. Meaning it is possible to take inventory in minutes or verify an incoming or outgoing shipment in seconds. The award-winning  T6000e enterprise industrial printer offers the ability to print, encode, and perform barcode verification at the same time. No longer are two separate machines needed to perform two completely different functions. This is a unique function not available on any other printer currently on the market.

Boost Efficiency and Eliminate Downtime with Cross-Docking

Cross-docking is the practice of unloading materials from incoming trucks and loading materials directly into outbound trucks with little or no storage in between. Cross-docking increases efficiency and lowers costs if done correctly. One of the best ways to reduce shipping errors during this process is to print a new label at the point of application rather than from a central location. Our TSC Alpha-30L and Alpha-40L mobile printers come equipped with a pretty flexible platform of options for connecting or mounting the mobile printers to a forklift or vehicle. This can be especially useful in distribution centers where the printers have the ability to leverage the facility's power off a forklift truck or vehicle to eliminate the need for batteries and create a continuously operating device.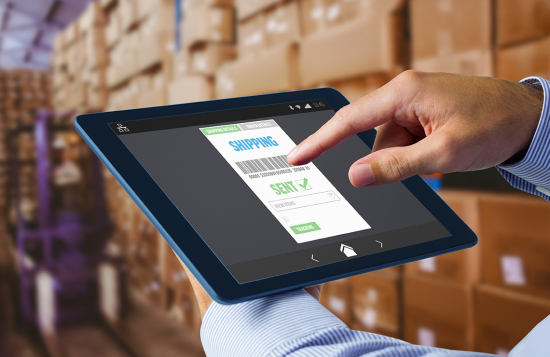 Shipping Labels are the Key to Your Logistics Operation's Success
What is the key to getting a package from point A to point B? A perfectly printed shipping label certainly helps! TSC Printronix Auto ID industrial printers are some of the industry's most durable and reliable printers offering years of reliable, uninterrupted service. The T6000e or MH 4-inch and 6-inch industrial printers are ideal for rugged warehouse environments. We also offer the compact T800 and DA Series desktop printers for smaller mailrooms with a lighter duty cycle.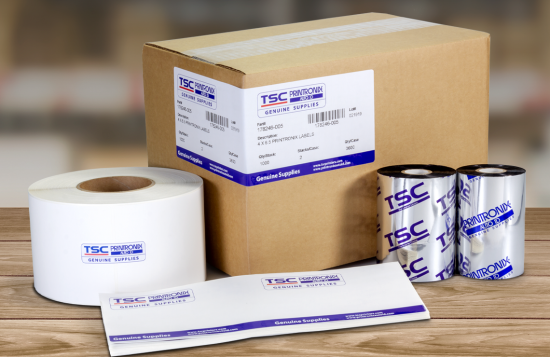 The Right Labeling Media
Choosing the right printer is only part of the success of your application. Are your labels going to be stored outside? Do they need to be water-resistant, or do you need an RIFD tag? Genuine Supplies will work with you to identify the right labeling materials for your needs and make sure you're getting them at the most cost-effective price available.