Boost Warehouse Productivity with Mobile Printers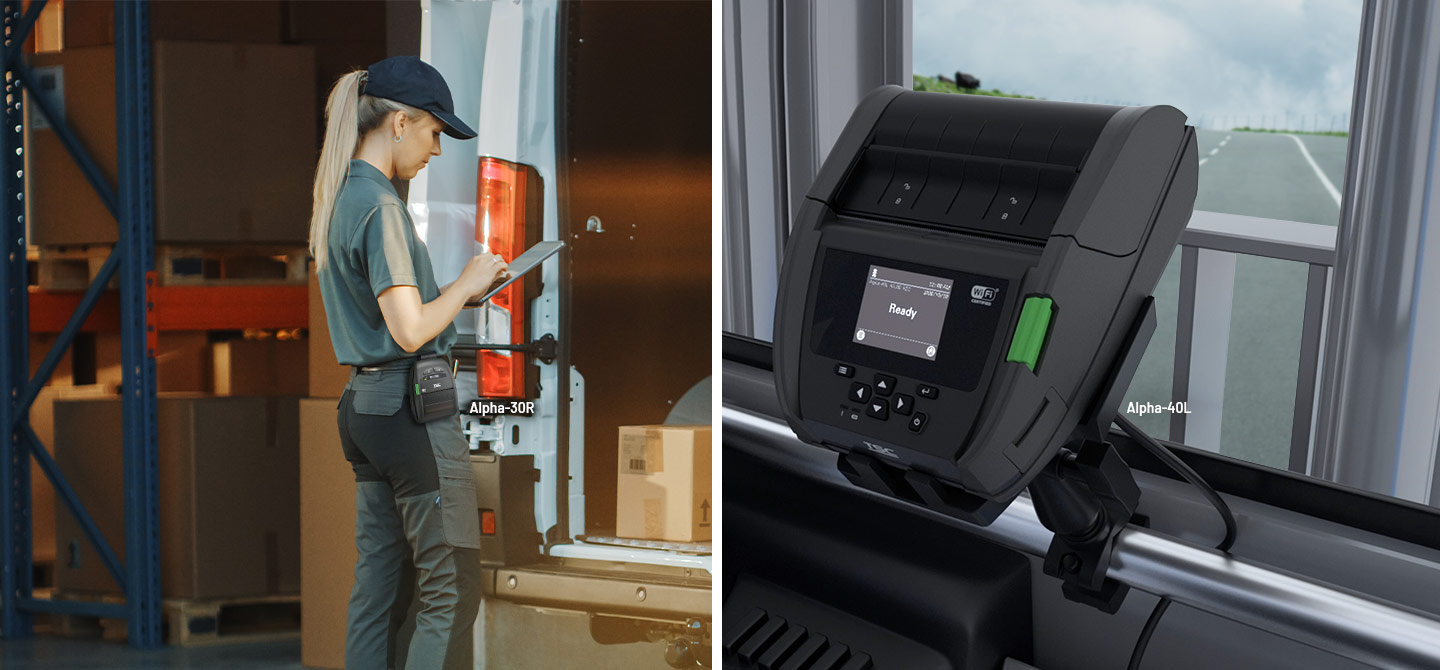 Mobile printers are a good option for accelerating productivity and reducing labeling errors for on-the-go enterprises. Did you know mobile printers can optimize efficiency in warehouses as well? As warehouse printing applications are moving away from stationary printing, flexible mobile printers offer labor savings and error reduction. TSC Printronix Auto ID's mobile printer lineup and value-added accessories for advanced technology in the palm of your hand printing offer robust, high-quality solutions to boost productivity.
Mobile RFID Printers Make Tracking and Tracing Goods Easier 
Some major retailers are now requiring RFID labels for products. Is your business ready? The Alpha-40L RFID Mobile Printer allows users to print and encode RFID labels on the go and on demand. The Alpha-40L is RAIN UHF compliant, drop resistant, and rugged to meet the challenges of fast-paced, high-demand work environments like warehouses.
This printer offers seamless connectivity with its certified Wi-Fi and Bluetooth® 4.2 technology. Using either the subscription-based remote printer management software SOTI Connect or TSC Console, IT personnel can manage, monitor, and troubleshoot devices from a remote location, perfect for large warehouses. And the Alpha-40L RFID printer works for labels as small as 0.625-inches (15.9 mm), offering even more flexibility for small label needs. Elevate your operations with this RFID mobile printer that fits in the palm of your hand.
Alpha-30L and Alpha-40L with Value-Added Accessories
A substantial deciding factor between stationary printers and mobile printers is the flexibility mobile options offer. To tailor to the various needs of mobile warehouse workers, we offer accessories that improve functionality such as customized forklift mounts for enhanced productivity. Our Alpha-30L and Alpha-40L are both available with printer mount kits and plates. The offering includes quick-release docks, optional battery eliminators, and mount components like dual leash mounts, and 2-inch and 5-inch universal mounts with AMPS plates. These accessories make mobile warehouse printing simpler, keeping the Alpha Series printers securely mounted, powered, and conveniently close to the point of work.
Adjustable straps and clips are also available for comfortable use all day long as well as hands-free options to keep your workforce moving freely.
Linerless Printing Capabilities
What are your label needs in your warehouse? Linerless is a great option for shipping and mailing as well as postage and parcel labeling. One of the great advantages of linerless labels is the elimination of waste that traditional labels have, reducing the amount of packaging and lowering costs for the user. There's also no backing to peel that would leave clutter on a warehouse floor, so operations can keep moving quickly and efficiently. 
The TDM-20 2-inch and the TDM-30 3-inch Performance Mobile Printers are perfect for printing linerless labels and receipts. They have exceptionally long battery life with the TDM-20 functioning up to 17 hours on a single charge, while the TDM-30 boasts up to 42 hours. Both models are durable and drop resistant up to 1.8 meters (6 feet) without a protective case.
Mobile Receipt Printing with the Alpha-30R
Another option worth considering for mobile receipts and barcode labels is the Alpha-30R. Its two models, basic and premium, offer linerless media options as well as rugged durability to withstand the pressure of high-demand workplaces. The premium version offers a gap and black mark sensor to support various label media needs.
The right accessories paired with the best mobile printer for your application will boost productivity in your warehouse and keep your operations moving forward smoothly.
Explore ways to optimize efficiency with our mobile printers: Connect with our team to choose the right option for your workforce.