This Unique Feature Provides Rapid Recovery for a Down Thermal Printer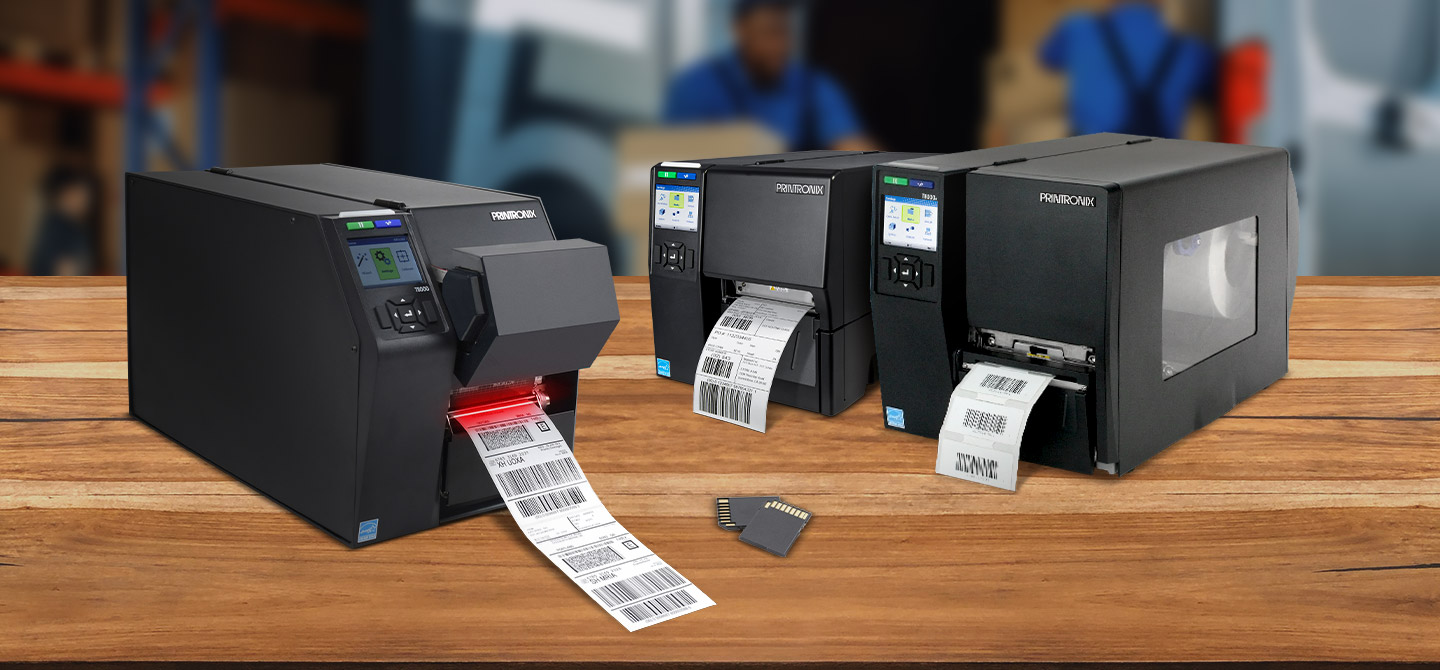 Installing and maintaining a large number of printers at once can be an overwhelming task, especially when the workload is at peak levels. Luckily, our Enterprise line of thermal barcode label printers are known for their rugged durability and robust features. Featuring all-metal construction, heavy-duty motors, and a cast metal spine, these feature-rich, high-performance barcode label printers exceed even the most rigorous enterprise requirements. As reliable as they are, sometimes unexpected events do occur. When they do, you can relax knowing that our mission-critical printers have a unique feature that allows you to rapidly configure printer settings on a substitute printer to maintain operational efficiency.
Avoiding downtime on mission-critical printers is key. However, sometimes, that's just not possible. Some risks are unavoidable like:
High or low temperatures in the shipping area due to inclement weather outside the dock door.
Rough handling from an operator hurrying to get labels from the machine onto boxes.
Inadvertent bumps as people and equipment choreograph complex movements in tight spaces.
Quick Change Memory Cartridge (QCMC) Rapid Recovery Solution
One of the great things about our Enterprise thermal printers is their ability to emulate a wide range of printer data streams. If another vendor's printer encounters a failure, our reliably rugged printers can take over without modification to the data stream or job, providing maximum flexibility.
We also offer a QCMC option that allows you to configure our industrial thermal barcode printers by taking the card from one printer and inserting it into another printer. It's that easy, and that quick. If one of your enterprise printers goes down, another printer can assume the down machine's identity in the time it takes for the new printer to power up, minimizing downtime and current processes can be continued immediately.
Using our proprietary QCMC feature, printer settings, configurations, and network information are stored on an SD card at the back of the printer. No external host or files are needed to transfer information to the QCMC. Taking the card from the downed printer and placing it into the replacement printer will allow the replacement printer to be configured identically as the old device without operator intervention, including setting the MAC address. The replacement printer will resume the print job as soon as the new printer is powered on. This can be especially useful if a printer fails during a weekend or night shift when IT or technical staff is not present.
What's unique about QCMC is that the card includes a unique MAC address embedded in it. Some networks are set up for MAC filtering, so they only allow approved devices with known MAC addresses on the network. Each printer has a unique MAC so if you swap out the printer it may not connect as it doesn't recognize the new printer's address. The printer network interface doesn't use the printer MAC, it uses the QCMC MAC. So, when you install the QCMC in the replacement printer, it looks exactly like the old printer -– no network filter update needed. This dramatically reduces the time needed to implement new devices in a backup data center or when expanding your existing printer facilities. QCMC puts the "quick" in rapid recovery solutions.
Enterprise Thermal Printer Solutions
QCMC cards are just one of the many features on our enterprise printers that simplify printer installation, replacement, and management.
Whether you are replacing your current enterprise thermal printer fleet, or you're trying our printers for the first time, we have durable, high-quality options for most enterprises. The T800 desktop printer is ideal for retail as well as shipping and logistics. The high-performance 4-inch printer can print up to 1,000 labels a day with print speeds as high as 8 ips.
Our T6000e 4-inch Enterprise Industrial Series printer offers nine competitive printer emulations making it ideal for replacement. It is available with 600 dpi for high-quality print labels and RFID labeling installation available for the most advanced tracking and tracing options.
Our most versatile 24/7/365 printer with 8-inch print width, the T8000 Series is rugged, reliable, and robust. In addition to the nine competitive printer emulations, it also includes Postscript/PDF printing. The T8000 Series also offers print speeds up to 12 ips and a GPIO port for ultimate customization. It's also available with an ODV-2D barcode verification system that reads each barcode as it is printed, grades each barcode, strikes over rejected barcodes, and automatically prints a new label.
Minimize downtime on your enterprise printers with our QCMC rapid recovery solution. For more information about QCMC or our enterprise thermal printers visit our website.