A Simple Guide to Preventing Printer Downtime This Holiday Season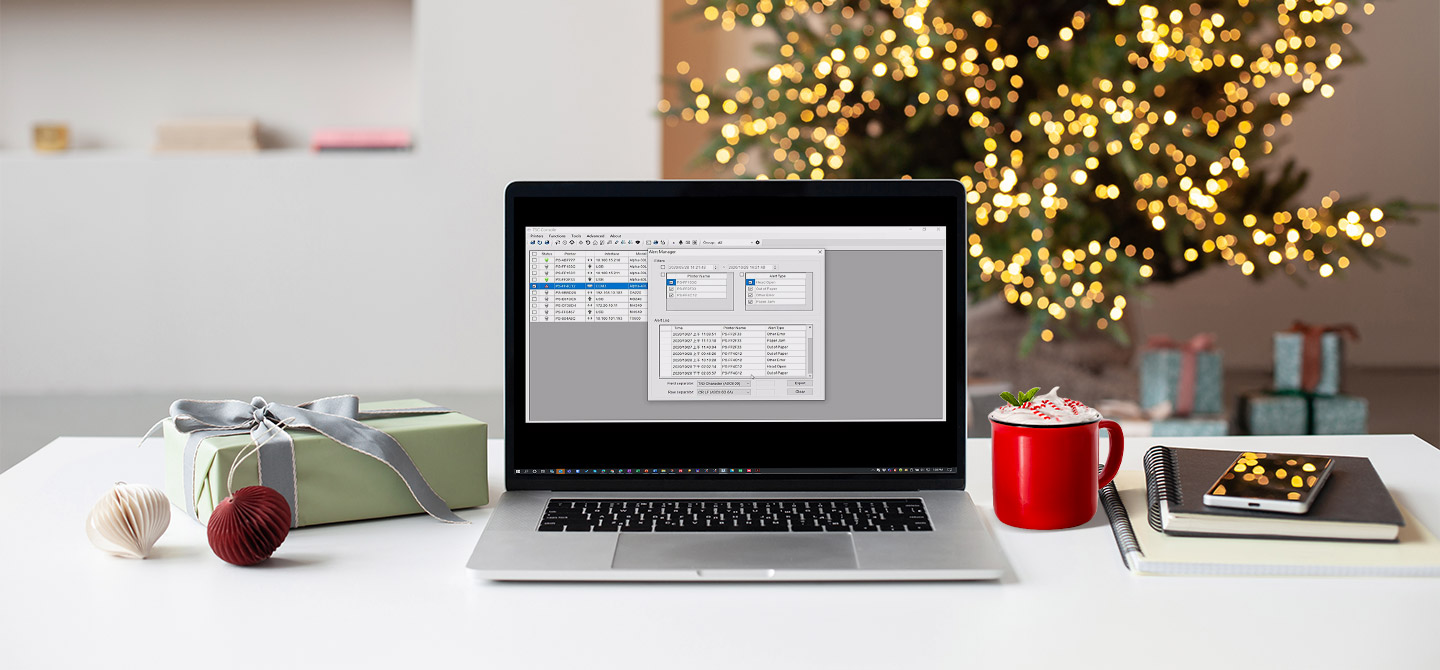 The holidays are upon us. It's time to rest and recharge before the new year. Taking time off shouldn't mean a halt in your operations. Remote printer management tools are especially advantageous for keeping track of your business-critical printers, ensuring systems are running as usual, and managing important information and documentation to keep your workflow running smoothly. You can have peace of mind this holiday season with one of our remote printer management options.
Let's look at the solutions we have to support your thermal printer management this holiday season, even with reduced staff.
Subscription-based SOTI Connect
Subscription-based SOTI Connect is offered as a cloud-based management software and gives enterprises 100% visibility and control of unattended business-critical printers while reducing unplanned printer downtime and workflow disruptions. It also guarantees consistent print performance and reliability with actionable data. If you know when your printer or fleet will need to refill supplies, you can plan ahead and avoid unexpected downtime.
SOTI Connect helps to reduce disruption to manufacturing workflows by 12.5% with its enhanced management and predictability. This software solution delivers a feature-packed option for large, global printer fleets, simplifying their management and monitoring during the holidays and all year round.
Exclusive TSC Console
TSC Console is our free, exclusive remote printer management software, designed specifically for our wide range of performance printers. TSC Console enables IT staff to deploy, manage, monitor, and troubleshoot both wired or wireless connections to one or a group of printers. It enhances robustness through integrated management capabilities and ensures that printers are available, reliable, and serviceable at all times.
This advanced solution eases deployment, troubleshooting, and component replenishment planning for printer fleets, solving enterprise print management challenges. It's the ultimate solution to support ease of printer management from anywhere in the world, helping you to take the reins during the holiday season.
PrintNet Enterprise
We also offer our proprietary PrintNet Enterprise (PNE) printer management utility which allows easy organization and remote monitoring of your enterprise printers from a single dashboard. PNE allows enterprises to download configurations, firmware updates, and resource files to groups of printers simultaneously. It also provides real-time responses to printer issues with email or cell phone alerts. Receiving notifications about any issues as they arise, can give you peace of mind while you're off for the holiday. You can relax unless intervention is needed. Minimum interruptions mean maximum productivity for you.
Taking time off this holiday season shouldn't impact your operation. Let these remote printer management tools work for you while you are away. If you need assistance selecting the best remote printer management tool for your enterprise or for more information, submit an inquiry here or contact your local TSC Printronix Auto ID sales representative.