How This Popular Mexican Restaurant is Making Food Safer with RFID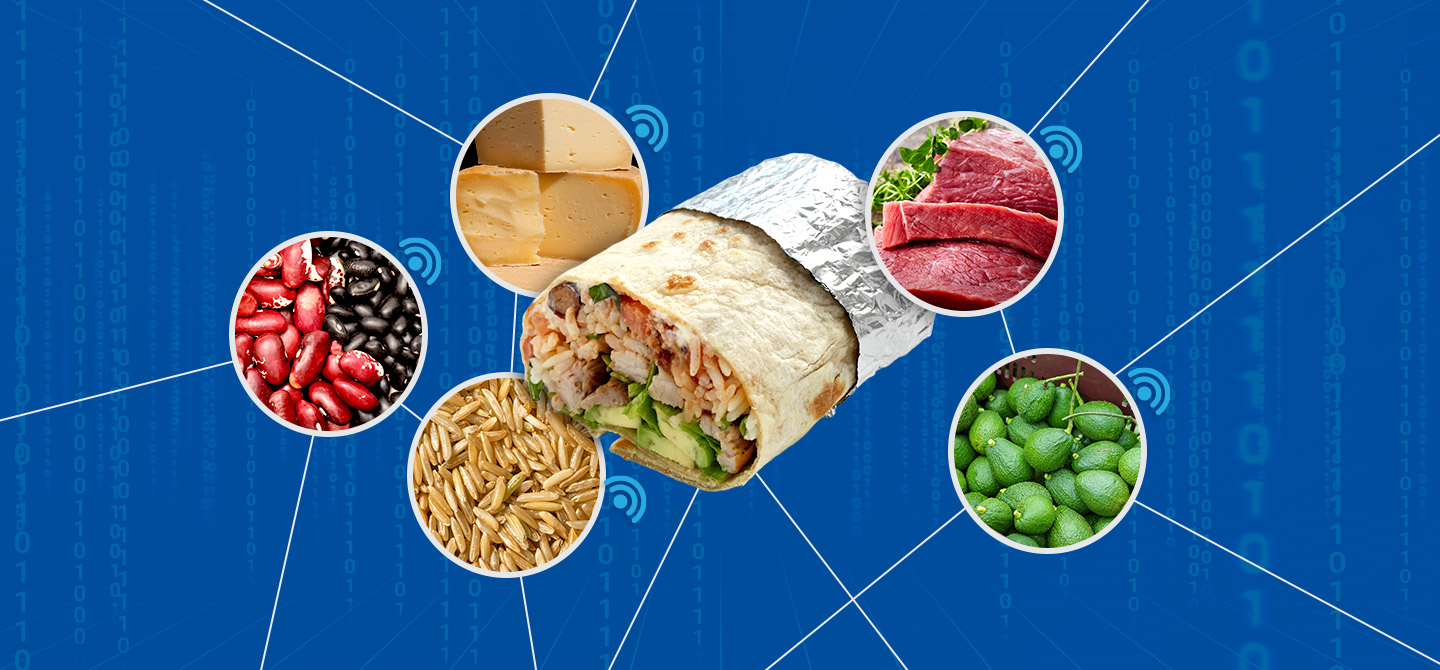 Chipotle Mexican Grill, the iconic US-based quick-service restaurant, also known as a QSR, has been testing RAIN RFID for several years. Chipotle is exploring how RAIN technology can help them lower costs, increase efficiencies and, most importantly, improve food safety.
As part of their latest efforts, Chipotle has requested suppliers to add RFID to their Produce Traceability Initiative (PTI) case labels.  According to the organization's website, PTI is a collaboration between the produce industry and GS1 to "help the industry maximize the effectiveness of current traceback procedures while developing a standardized industry approach to enhance the speed and efficiency of traceability systems for the future."
The PTI has a bold vision that outlines a course of action to achieve supply chain-wide adoption of electronic traceability of every case of produce. In short, the PTI is making your food safer by improving traceability, both upstream and downstream. 
Current PTI Labels and their Potential Limitations
Every day, thousands of cases of fresh produce are delivered to the thousands of Chipotle restaurant locations. But where did these cases come from? Is the produce fresh? Is the produce affected by a recall? Are the correct products being received and in the correct quantities?
Cases of produce are normally labeled with a PTI label to help answer these questions. Below is a typical PTI case label, but it should be pointed out that there is a lot of flexibility with regard to the precise label design:
(Courtesy of BarTender® label software)
Note the key label elements such as a GS1-128 barcode with the GTIN and Batch/Lot Number, the voice pick code, the Pack Date, and descriptive human-readable text.
In theory, this label already contains everything Chipotle needs to know. But in order for Chipotle to access the required data, the label on each and every case needs to be visually examined in some manner or other. Although a barcode scanner can be used to expedite the process, every barcode still needs to be scanned in order to track counts and inventory.  The pack date is often encoded within the GS1-128 barcode to automate the recording of this key piece of data, but each barcode still needs to be scanned. This can be extremely time-consuming. 
Also, when faced with an incoming shipment of dozens of cases, it can be very easy to make an error by missing a barcode and/or scanning the same barcode more than once. Regardless of how carefully the barcodes are scanned, the cases are generally not uniquely identified.
The Benefits of Adding RFID to PTI Labels
By adding RFID to the labels, Chipotle locations can quickly and accurately verify incoming shipments and product data. The cases can either pass through an RFID portal at the receiving door or be scanned with a simple wave of a handheld RFID reader. Either way, checking all of the desired information is fast and accurate and can easily be integrated with other systems to check for recalls, expiration dates, and quantity counts.
As of today, Chipotle is requesting that the RFID PTI case labels be encoded using GS1's SGTIN-96 Encoding Scheme. This scheme essentially encodes the GTIN and a unique serial number. To obtain additional information such as critical dates or the Batch / Lot Number, a simple database lookup can be automatically executed.
In the future, Chipotle is considering migrating to one of the newer GS1 Encoding Schemes recently introduced in GS1's Tag Data Standard 2.0. Chipotle will most likely settle on either SGTIN+ or DSGTIN+ (a date-prioritized version of SGTIN+). These new schemes allow for encoding not only the GTIN and a unique serial number but also additional item attribute data such as pack date and batch/lot number directly into the tag. This allows readers to gather such additional data more quickly and efficiently than when a database lookup is used.
Your RFID and Barcode Labeling Printing Experts
We routinely post insights led by our RFID Subject Matter Expert, Chris Brown, to keep you up to date on the latest RFID trends. Check out our blog and follow us on social media to stay in the know.
If you have questions about how RFID labeling can enhance your enterprise, get started here or contact your local TSC Printronix Auto ID sales representative.