How Barcode Inspection Printers Saved this Manufacturer 5 Labor Hours Per Day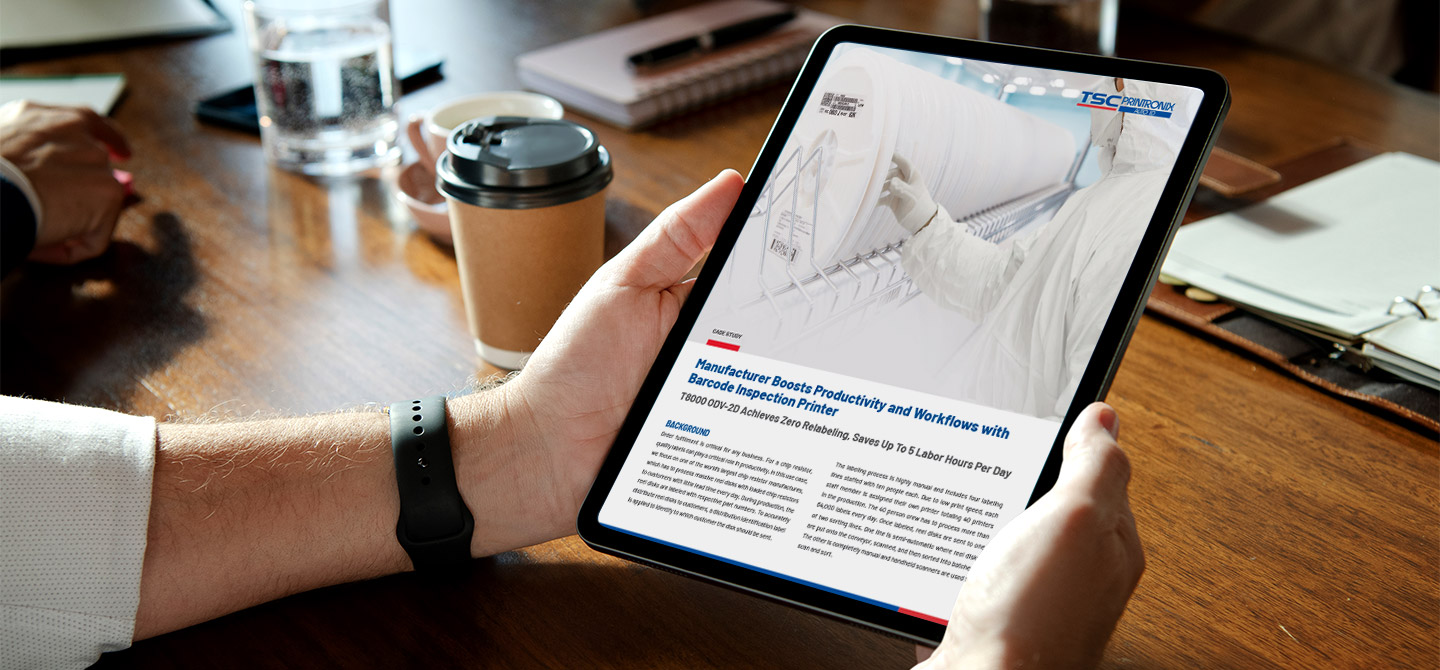 A global chip resistor manufacturer was able to lower costs, reduce labor, and improve efficiency by deploying our T8000 ODV-2D barcode inspection printers. We've detailed the full case study available on our website.
One of the world's largest chip resistor manufacturers processes massive reel disks with loaded chip resistors. Each reel disk is labeled with respective part numbers. To accurately distribute reel disks to customers, a distribution identification label is applied to identify to which customer the disk should be sent. Their labeling process was cumbersome and manual, and they sought a more effective solution.
A Highly Manual Labeling Process
The labeling process for the manufacturer had been highly manual and included four labeling lines staffed with ten people each. Prior to deploying the T8000 ODV-2D barcode inspection printer, they were faced with low print speeds, so each staff member was assigned their own printer, with a total of 40 printers in the production line.
The 40-person crew had to process more than 64,000 labels every day. Once labeled, reel disks are sent to one of two sorting lines. One line is semi-automatic where reel disks are put onto the conveyor, scanned, and then sorted into batches. The other is completely manual with handheld scanners used to scan and sort.
High Labor Costs to Rework Unreadable Labels
When labeling, scanning, and sorting manually, correcting unreadable labels caused the manufacturer up to five hours of rework per day. This also caused backups on sorting lines that forced production to stop until the labels were corrected. During the rework process, staff needs to rescan the part number label, print a new identification label, and scan and sort again for packing. It is estimated that 1% of the labels will need to go through this process. That means 640 labels are corrected each day, which reduces productivity by 21% each day.
Eliminating Relabeling with the T8000 Barcode Inspection Printer
Our T8000 ODV-2D barcode verification and validation printer is an all-in-one solution that enabled the manufacturer to print, scan, verify and validate 1D and 2D barcodes in a single print job. It includes a built-in barcode verifier that grades and validates barcodes to ISO standards. It also deploys a fully automated process to overstrike bad labels and reprint a new one without operator intervention.
This makes the T8000 much more efficient than other inspection solutions to identify and repair unreadable labels, as the T8000 eliminates the need for manual inspection and reprint.
During a three-month trial period, the T8000 ODV-2D barcode inspection printer worked under 24/7 operation to prove its true reliability and durability to the manufacturer. Adopting the T8000 ODV-2D resulted in a zero-label defect rate, no more relabeling, and no more labor waste in their processes. Their issue was solved. In addition, their internal workflow was improved while also saving time and labor. The T8000 ODV-2D printer provided significant cost, labor, and efficiency savings for this manufacturer.
Why Choose the T8000 ODV-2D Barcode Verification and Validation Printer?
There are many reasons to select our T8000 ODV-2D barcode inspection printer for your operation. It provides a fully-integrated barcode verification solution that requires zero operator intervention in the process to print, scan, verify, validate, overstrike, and reprint labels.
For the manufacturer referenced in our case study, one T8000 ODV-2D printer can cover the previous workload of 10 printers. The manufacturer now only needs four T8000 ODV-2D printers to fulfill their daily heavy print demands—this is compared to 40 printers in their previous process. The T8000 provided better value and greater savings than the manufacturer expected, providing them with an excellent ROI.
To get started with our ODV-2D barcode inspection printer solutions, contact your local TSC Printronix Auto ID representative or explore our barcode inspection printers online.