Get to Know the Upgraded TX Series Desktop Label Printer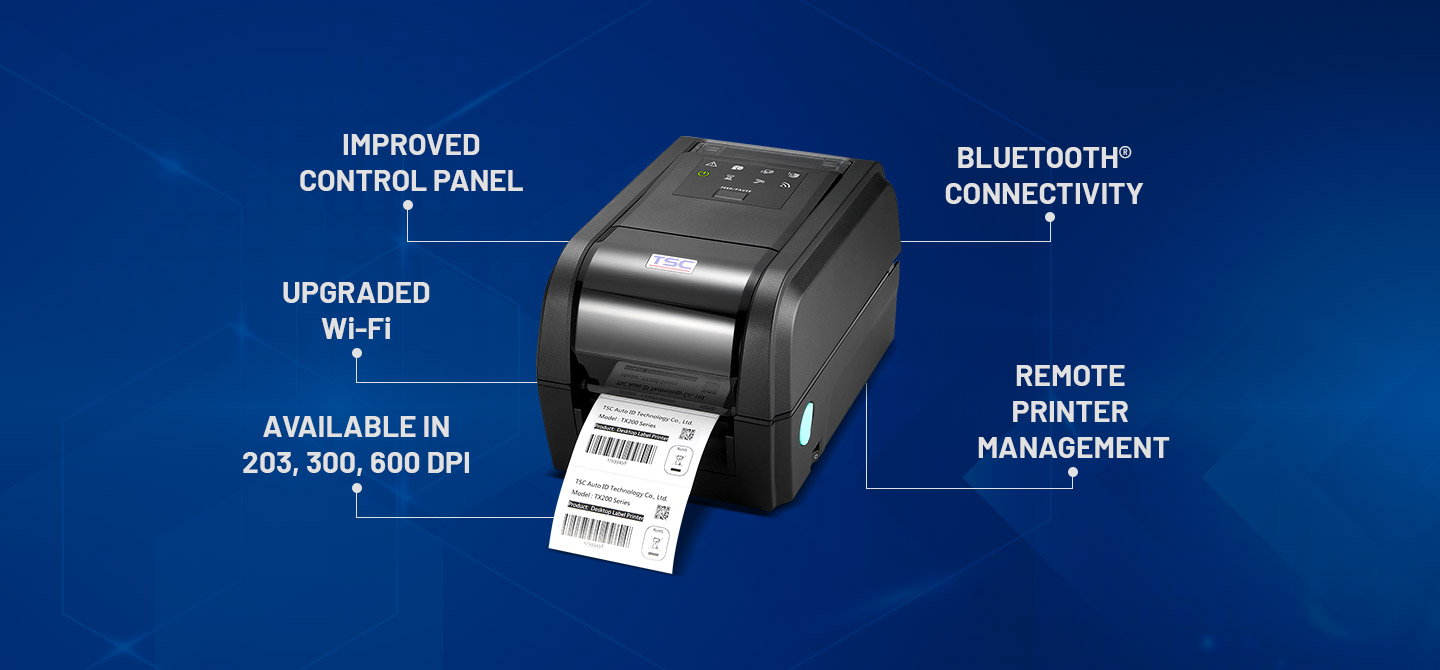 Our TX Series desktop thermal printers offer high-quality label printing performance for enterprises. Their durability and functionality make them a popular choice. With over 2 decades of thermal printing expertise wrapped into a 4-inch desktop printer, it's not hard to see why. The TX Series thermal transfer desktop label printers can support a variety of printing needs. With three models available, these printers can address everything from high-volume 4 x 6 shipping labels, high-quality product marking and graphic solutions, to high-resolution labels used in electronics marking applications. This -versatile printer series just got even better with the TX210, the latest model with game-changing improvements.
Read the blog to learn more about the upgraded technologies and advanced performance in our TX Series printers.
High Volume Performance, Superior Technology at an Affordable Price
How do you make something that's already good, even better? You start with a solid foundation. The TX200 is as solid as they come. The TX Series features a user-friendly spring-loaded center-biased clamshell design for easy drop-in media loading of 5-inch rolls of media. The printer construction features a rugged double-wall design that is stronger and more durable than other thermal transfer mechanisms on the market. Its strong motor is powerful enough to handle a 300-meter-long ribbon. The large 300-meter ribbon supply on a one-inch core saves time and money by minimizing the time spent refilling the supply so you can keep working without interruptions.
As with many of our printers, the TX Series features TSPL-EZ printer-control language, which is fully compatible with other TSC printer languages, while supporting TPLE (Translation Printer Language Eltron®) and TPLZ (Translation Printer Language Zebra®). The languages automatically decipher and translate the format of each label as it is sent to the printer. TSPL-EZ also features internal scalable True Type fonts (based on the Monotype® font engine), which are typically found only in more expensive printers. These language abilities make it easy to incorporate the TX Series into an existing workflow or replace a printer of a different brand.
The TX210 Upgrades
The new TX210 is an evolutionary upgrade to the TX200. We upgraded the TX Series to support better Wi-Fi and Bluetooth® capabilities, that allow for remote printer management options as well as an improved control panel for maximum usability.
 The game-changing improvements include the new Wi-Fi and Bluetooth® combo radio option for the printer. Not only does this expand the printer's connectivity abilities, you can say goodbye to the cumbersome ethernet cable and enjoy more space on your desktop.
The new radio cards are SOTI Connect compatible for customers who wish to monitor their printer health with SOTI's enterprise mobility management software. SOTI Connect will help your enterprise work smarter, not harder. You can enable the installation of firmware updates as well as troubleshoot remotely. It also provides advanced data collection with around-the-clock analysis of valuable printer status information to ensure printers perform reliably.
Regardless of which printer in the TX Series is best for your enterprise, you can rest assured that you're getting a top-quality, high-performing desktop printer that was created to add value, save time, and reduce costs. 
For more information on the TX Series thermal transfer desktop printers, check out our website here or contact your local sales representative.