Automated Barcode Inspection Solutions for Wide Labels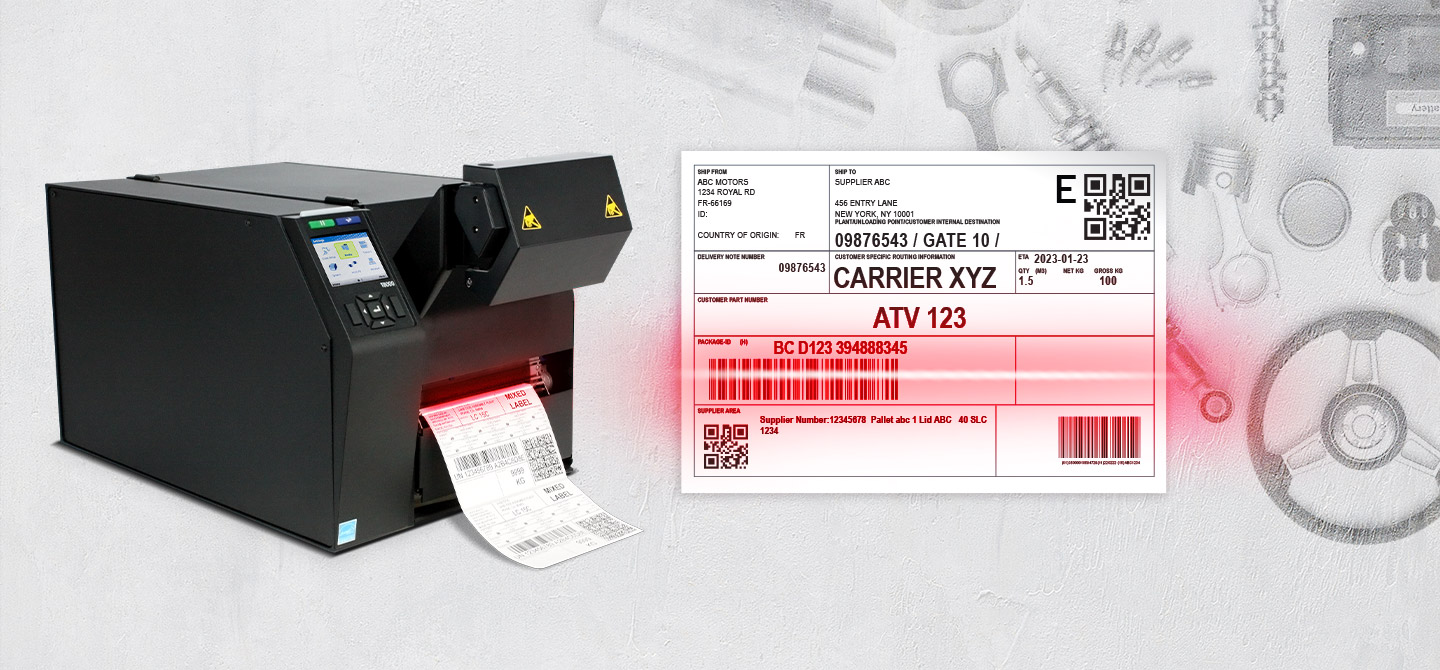 Barcode inspection is an excellent recommendation for any industry, but particularly essential for the automotive industry. Process demands for the industry require increasingly greater amounts of information to be included on a standard 4x6 shipping label. Many companies are moving to 2D barcodes to increase the amount of information that can be transferred in a fraction of the space of a 1D barcode. For some companies, however, this still is not enough. They are finding their solution in larger labels.
In the Automotive Industry, the Odette or Galia format labels are several formats that are becoming standardized across the industry. A5 (6" x 8") size labels are increasingly mandated by manufacturers that must rapidly capture enough information to manage numerous incoming shipments. Suppliers to these automotive companies must not only generate the mandated label format but are strongly encouraged to inspect their labels before shipment. Incomplete labels that do not meet the quality standards set by the companies are subject to fines or having the shipment returned.  
Wide-label barcode inspection had been offered previously with laser scanners. Still, these scanners do not scan 2D barcodes, or 1D barcodes oriented in the direction of print (also known as ladder orientation), making it a more restrictive option. Our image barcode inspection options offer full 6.5-inch scanning available for 2D barcodes as well as 1D barcodes in any orientation. Our ODV-2D barcode inspection scanner is available on 4-inch or 6-inch printers featuring integration with the printer to automatically find and grade up to 50 barcodes per label without any additional hardware, software, or templates. Printing the job enables the ODV-2D system to inspect all barcodes to ISO standards. If a barcode falls below the customer's settable threshold for quality, the printer will automatically retract and overstrike the failed label and reprint. All without operator intervention. 
Our Wide Label Barcode Inspection Solutions
Our solution for wide-label inspection is the T8000 equipped for 6.5-inch wide barcode label inspection. This premier high-quality industrial printer features a color display, and multi-connectivity capability and is built to exceed the requirements of the most demanding mission-critical manufacturing and distribution operations.
In addition to the barcode inspection, it also offers remote printer management tools and automated alerts to keep your enterprise operating at optimum efficiency and productivity. It features nine major printer languages allowing the printer to function well in existing environments.
Inspecting barcode labels before shipping can save your company time, money, and brand reputation by ensuring that every label meets your customer's demanding specifications. Reports are available to help defend against chargebacks as every barcode grade is recorded and available for archive and analysis. The entire process is automatic, and simple, and offers significant savings for our customers.
For more information on barcode inspection for 6-inch labels, contact your local TSC Printronix Auto ID sales representative or submit an inquiry here.