3 Reasons Why We Love Using Barcode Labels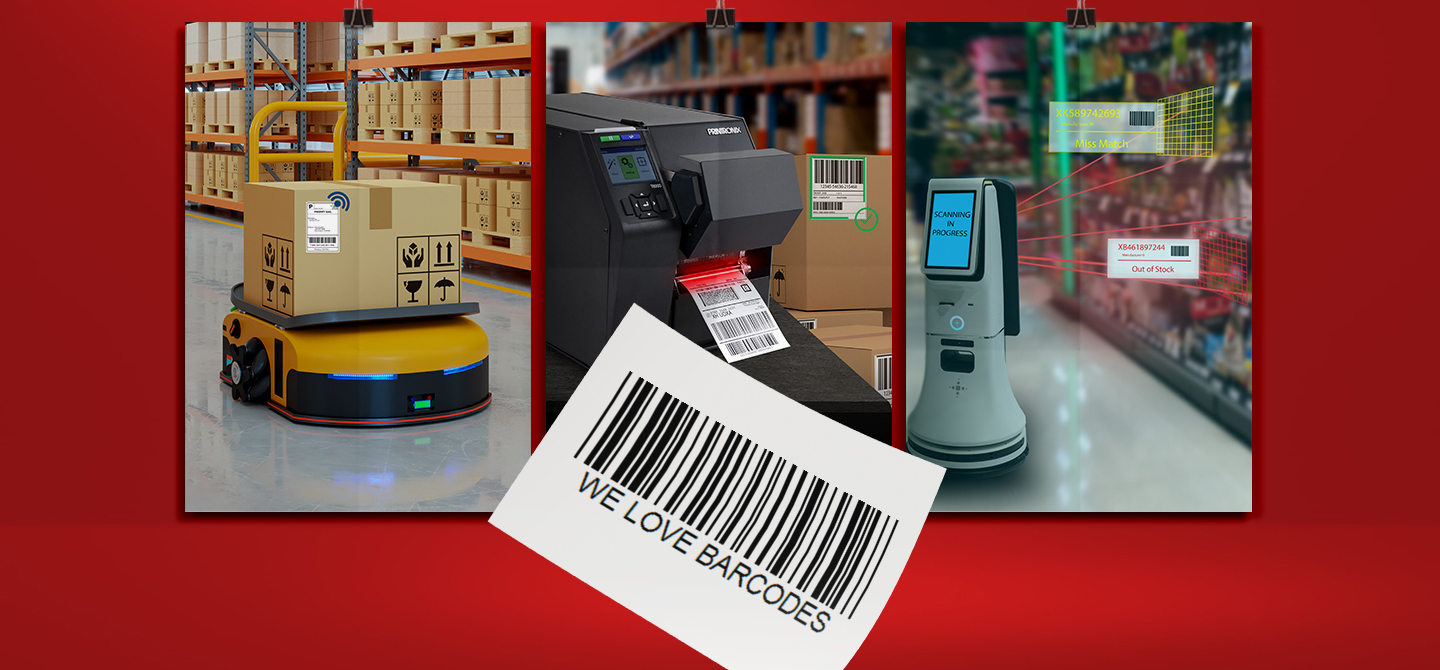 Here at TSC Printronix Auto ID, we pride ourselves on being your barcode and RFID label printing experts. With over thirty years in the AIDC industry, we know a thing or two about barcodes and labeling. Our over three decades of thermal printing experiences have taught us that there are many reasons to love barcode labels. After all, we specialize in them. Over the years, advancements in barcode technology have expanded its capabilities. As barcodes continue to evolve, we look forward to expanding with them. While the future of barcodes is exciting for us, there are plenty of ways to use them now and improve your business. We have highlighted our favorite reasons below for using barcode labels.
Barcodes are Cost-Effective
The first thing we love about barcodes is how cost-effective they are. Barcodes are generally quite inexpensive to implement as there are systems for them almost everywhere, including the smartphone in your hand. Their cost-effectiveness is due, in part, to their versatility. You can find them at your local restaurant on a menu as a QR code or at the grocery store on a bag of chips or on your Amazon Prime shipment. Barcodes also adhere to almost any surface.
Additionally, barcodes and their subsequent systems allow for a much easier inventory process than the traditional, manual process. With the implementation of barcodes, businesses are able to take inventory in a fraction of the time and with a much higher accuracy rate. This helps many enterprises sustain an accurate count of their products which leads to several benefits such as higher customer satisfaction and lower labor costs. 
Barcodes are Efficient
The second reason we love barcodes is because of how efficient they are. Adding to the previous point, another reason barcodes are so cost-effective is due to their efficiency. Whether the barcodes are 1D or 2D they are generally quite small in size. Yet to be so small, barcodes carry vast amounts of data. If that same amount of information were to be handwritten or typed it would likely take up twice the space. Not only do barcodes carry large amounts of information they relay that information quickly. With a simple scan, most necessary data is read within seconds. As you know, time is precious for any business. Barcodes allow many enterprises to get the best ROI.
If your industry mandates that you must deliver goods with RFID tags, you can easily comply using our RFID printing solutions. Perhaps you are faced with the need to fit more information on your barcodes, you can simply add more data to a more complex barcode. 2D barcodes were introduced with the capacity to store several hundred characters. Further enhancements have expanded 2D barcode capabilities to just over 7,000 characters. One of the more recent advancements in barcode technology is QR codes. A QR code can contain a string of several thousand characters.
Because of their ability to carry large amounts of information quickly, barcodes are also an ideal solution for tracking, specifically asset tracking. Barcodes allow for workflow transparency and enable businesses to see the location of their assets, which was nearly impossible to do without a barcode system. Adding to their ease of use, with the continued development of modern technology, the ability to scan barcodes will only increase with the number of downloadable apps available on smartphones.
Barcodes Eliminate the Possibility of Human Error
Finally, the third reason we love barcodes is that they do what humans can not do. They eliminate and bypass many errors caused by humans. Even when humans are at their best, there is still much room for error. Manual data entry is notorious for its inaccuracy. Unfortunately, when an error is made, it is often duplicated and reproduced across multiple systems causing a lot of time and money to correct. Using barcodes for data entry is more accurate and takes significantly less time to double-check.
Our integrated barcode inspection technology is an excellent example of reducing human error. Available in 4-inch and 6-inch options, the barcode verifier grades barcodes to ISO standards. It reads each barcode, overstrikes the entire label of a rejected barcode, and reprints a new label all without operator intervention. With compliance fines on the rise and many industries experiencing labor shortages, barcode inspection is a cost-effective and efficient solution for any enterprise.
A Match Made in Heaven: Genuine Supplies and Thermal Printers
Many of the things we love about barcodes are highly dependent on the quality of the label. Choosing the right labeling materials for your application is crucial. Our Genuine Supplies team is dedicated to offering high-quality, comprehensive materials for your application. Whether you need direct thermal or thermal transfer labels, you can be assured that your supplies will be optimized in form, fit, and function.
TSC Printronix Auto ID is the smarter choice for innovative thermal printing solutions. From RFID labels to mobile printers, we are committed to solutions that elevate your printing experience and enhance your operations. For a comprehensive list of our thermal printing solutions, check out our website or contact your local TSC Printronix Auto ID sales representative.