The 3 Must-Have Thermal Printing Accessories to Boost Efficiency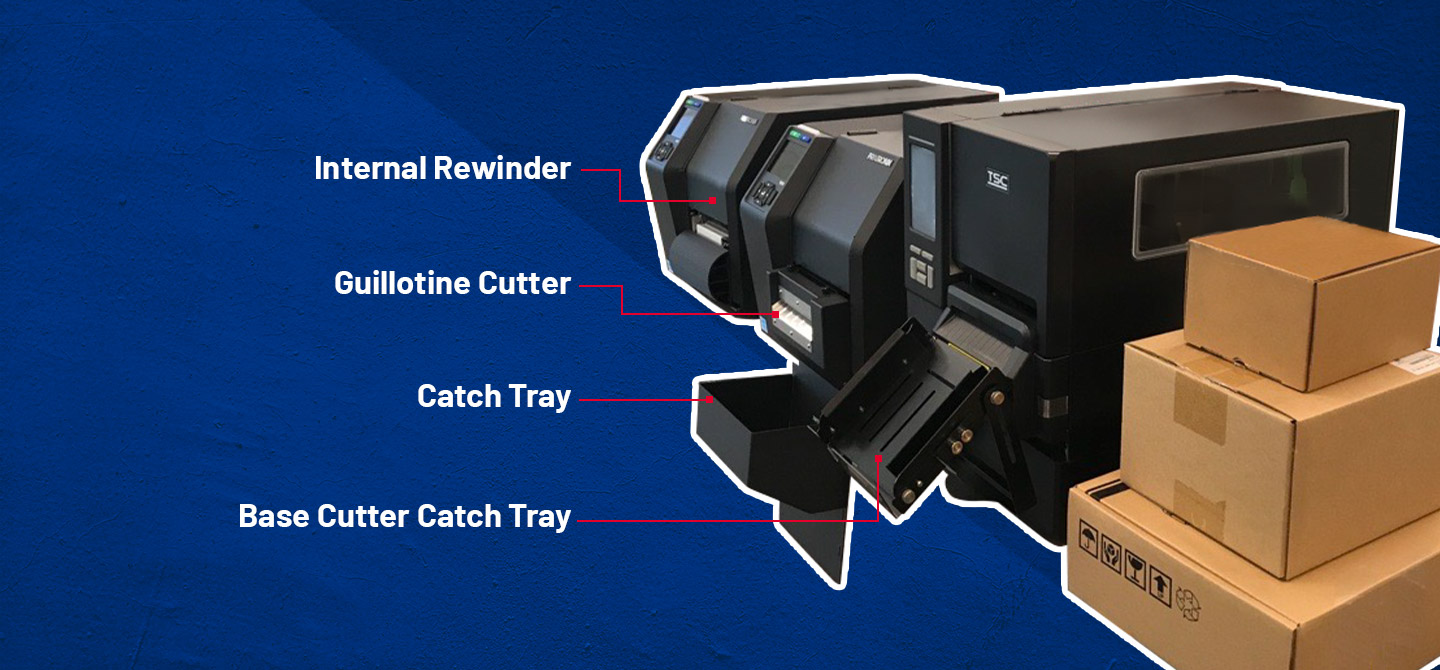 We are proud to offer a variety of accessories to enhance the performance of your thermal printer and maximize your label printing application. Our thermal printers go beyond standard, out-of-the-box features. We offer custom-tailored solutions to meet the needs of your application. Whether it's a cutter and peeler combo to keep your labels moving at top speed or a Wi-Fi module for advanced connectivity options, our accessories streamline your workflow and boost your productivity.
Set your workforce up for success. Learn how these three value-added accessories can save your labeling application time and money.
1. Quick and Powerful Cutters
We have high-quality cutters that are available for our desktop and industrial thermal printer models. The rotary cutter is perfect for a wide spectrum of media, as the rounded blade can effectively cut through thicker options like label stock. Our guillotine cutter uses a quick-cutting action to support high-speed, high-performance label printing for a variety of applications. Additionally, our heavy-duty care label cutter is available for fabric and synthetic labels used in the garment industry and can also support other media options. Installing a cutter keeps your operations moving quickly and efficiently. We have a cutter option available for most media materials.
To support the cutters, we also offer catch trays to keep your workspace safe and clutter-free. The catch tray ensures all materials stay flat and remain undamaged after printing as well as catching the media, so it doesn't fall to the floor or desk. Catch trays make it convenient to pick up your quality printed labels, already cut, and keep moving without missing a beat.
2. Time-saving Rewinders
Our internal rewinders provide a time-saving option to peel and present your labels for extra efficiency. As your labels are printed, the label is automatically removed from the backing. The backing feeds back into the printer, wound inside, and stored to be discarded later. This feature helps you label quickly and more efficiently. It also keeps your workspace tidy and free from slipping hazards. Another great use of the internal rewinder is to hold pre-printed labels and store them until you're ready to apply them. This time-saving option is ideal for warehouse operations that prefer to batch print first and apply labels later at a separate application area.
3. Greater Flexibility with a Wi-Fi Module
Thermal printers get placed in interesting locations to accommodate workflows. While most locations will have access to power, connecting them via cables can pose a challenge. Is it feasible to run an extended string of coaxial or USB cables across a shop floor to the location in shipping and receiving that needs close proximity to the printer? Often it is not convenient and cables running across a shop floor can pose a safety risk as well. 
Our state-of-the-art, Wi-Fi modules are available on many of our thermal printers to give users the ability to upgrade to wireless connectivity. Installing our Wi-Fi module is quick and easy and expands your printer's communication capabilities. With Wi-Fi, you can ditch the cumbersome ethernet cable! Cutting the cable altogether and going wireless provides even greater flexibility for printer performance and placement. You can also remotely send jobs to your printer and manage your fleet to keep your operations moving efficiently wherever you are.
Don't settle for standard out-of-the-box features. Upgrade your thermal printer with custom-tailored accessories that boost your productivity and keep your workflow moving at optimal speed.
For more information on how our value-added accessories can serve your enterprise, contact your local TSC Printronix Auto ID sales representative, or submit an inquiry here.