MB Series 4-Inch Compact Light Industrial Printers
These thermal label printers are value leaders for 4-inch-wide light industrial label printing.
Linerless models available. 
Industries and Applications





Available in four models, the MB Series includes the MB240, MB340, MB240T, and MB340T which all offer users a flexible footprint, an easy to understand operator interface, and a full set of options to meet nearly every light industrial printing application.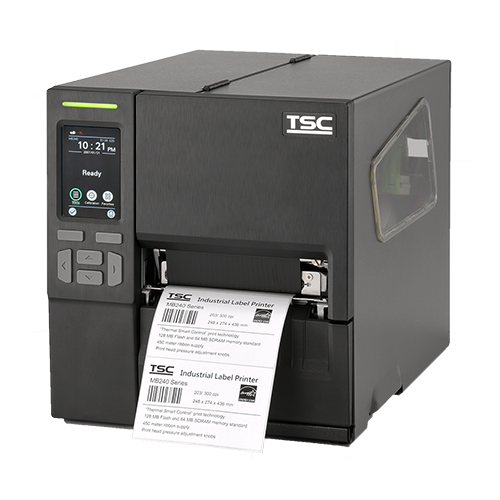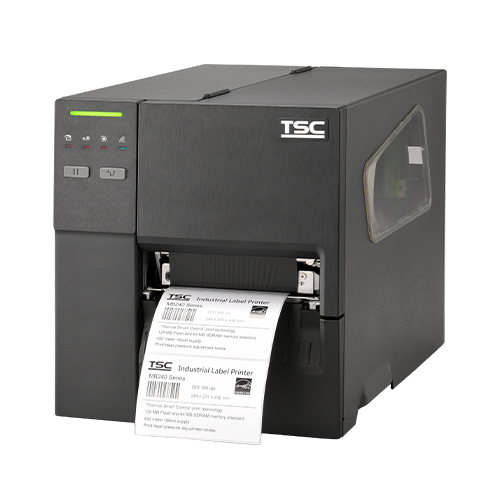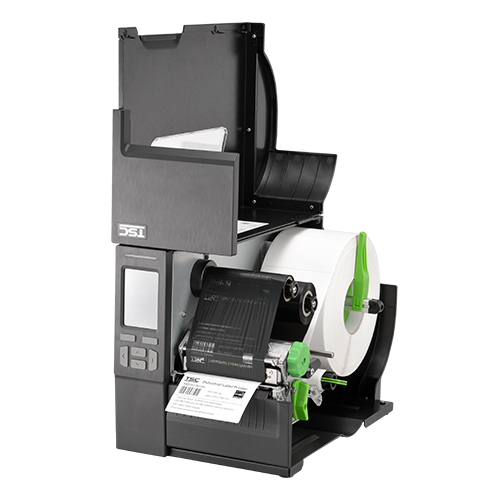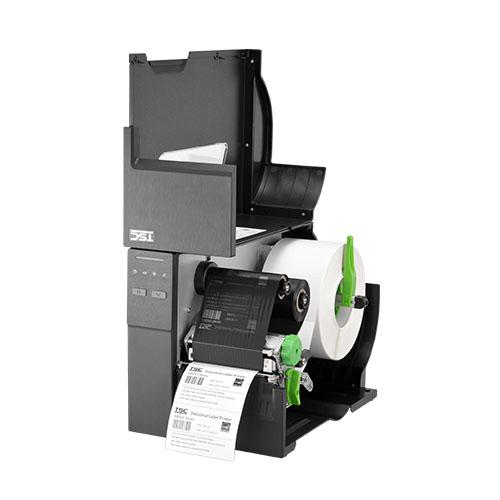 TSC's Most Versatile Compact Light Industrial Label Printer
The TSC MB Series of industrial thermal label printers is a new value leader for 4-inch wide light industrial label printing. The MB series is designed to fit in alongside bigger TSC industrial printer models including the MH241 and MX241P Series. The MB240 features a small footprint, easily understood operator interface and a full set of options to meet nearly every printing application.
Its compact design, quiet operation and fast label throughput is equally at home in the office or shop floor. The printer's all-metal construction and die-cast aluminum print mechanism engine is durable enough to withstand the toughest production environments and is designed for years of trouble free use.
Smart Colorful Display Version
The new MB240T comes with an easy to use high-contrast 3.5-inch color touch LCD panel with 6 buttons. Common tasks such as label calibration are one touch away. Menus can be customized to bring frequently used tasks to the front screen for faster, less complicated operation.
Enhanced Print Quality
The MB Series 4-inch industrial printers feature the best print quality TSC offers thanks to faster processors and upgraded firmware. We call our enhanced print quality "Thermal Smart Control" which tracks and precisely calculates the duration that each pixel needs to be heated to provide accurate, crisp and clear labels every time, whether you are printing one label at a time or thousands of labels in a batch.
Available in both 203 dpi and 300 dpi resolutions for a wide range of applications
The MB Series can print on a wide variety of labels, ranging from healthcare patient safety, electronics and jewelry labeling to shipping and distribution labels, making it ideal for industrial duty printing.
Communications to meet your needs
Connect to any host with a variety of interfaces including Ethernet, USB, USB-Host, Serial RS232 or optional 802.11 a/b/g/n wireless or Bluetooth. There is also an optional General Purpose Input/Output (GPIO) interface for connection to a variety of industrial and label application equipment.
Options including Label Peel, Present Sensor and Internal Rewind
The MB series can be equipped with an optional Peel, Present and Internal Rewind that peels the label as it exits the printer and waits for the user to take the label until printing the next label. The backing waste is conveniently taken up inside the printer on an internal rewinder. Other options include cutters, Peel and Present, GPIO and wireless 802.11 a/b/g/n and Bluetooth communications.
Powerful TSPL-EZD printer programming language
The MB series features TSPL-EZD firmware that is easy to set up and use. TSPL-EZD offers a fully compatible set of standard industry emulations, including Line Mode, Datamax®, Eltron® and Zebra® languages and will work in many IT environments including Oracle, Unix, AS/400, Windows, Stand Alone, and many more.
The included DiagTool configuration software makes it a snap to replace existing printers with a modern durable MB Series printer. Other TSPL-EZ features include a file manager and programming language that support stand-alone and down-time programming solutions allowing you to print labels without connection to a host computer, or optionally be able to continue printing labels during times of network failure.
Applications
Manufacturing

Work In Process
Product Marking
Compliance Labeling
Industrial-Duty Printing

Warehouse & Logistics

Packing
Order Fulfillment
Shipping/Receiving
Inventory Management

Retail

Product Label
Event Ticketing
203 dpi (8 dots/mm)

300 dpi (12 dots/mm)

203 dpi (8 dots/mm)

300 dpi (12 dots/mm)

Direct thermal/Thermal transfer

Direct thermal/Thermal transfer

Direct thermal/Thermal transfer

Direct thermal/Thermal transfer

LED with buttons

LED with buttons

Color LCD touchscreen with buttons

Color LCD touchscreen with buttons

Ethernet
GPIO
Serial RS-232
USB
USB Host

Ethernet
GPIO
Serial RS-232
USB
USB Host

Ethernet
GPIO
Serial RS-232
USB
USB Host

Ethernet
GPIO
Serial RS-232
USB
USB Host

Bluetooth MFi
Wi-Fi

Bluetooth MFi
Wi-Fi

Bluetooth MFi
Wi-Fi

Bluetooth MFi
Wi-Fi

TSC Console

TSC Console

TSC Console

TSC Console

Industrial

Industrial

Industrial

Industrial

10 ips (254 mm/s)

7 ips (178 mm/s)

10 ips (254 mm/s)

7 ips (178 mm/s)

4.25" (108 mm)

4.16" (105.7 mm)

4.25" (108 mm)

4.16" (105.7 mm)

1,000" (25,400 mm)

450" (11,430 mm)

1,000" (25,400 mm)

450" (11,430 mm)

128 MB SDRAM

128 MB SDRAM

128 MB SDRAM

128 MB SDRAM

Regular guillotine cutter (full-cut)

Regular guillotine cutter (full-cut)

Regular guillotine cutter (full-cut)

Regular guillotine cutter (full-cut)

8" (203.2 mm) OD

8" (203.2 mm) OD

8" (203.2 mm) OD

8" (203.2 mm) OD

0.8" - 4.7" (20 - 120 mm)

0.8" - 4.7" (20 - 120 mm)

0.8" - 4.7" (20 - 120 mm)

0.8" - 4.7" (20 - 120 mm)

Continuous; Die-Cut; Black Mark; Fan-Fold; Notch (Outside Wound)


Continuous; Die-Cut; Black Mark; Fan-Fold; Notch (Outside Wound)

Continuous; Die-Cut; Black Mark; Fan-Fold; Notch (Outside Wound)

Continuous; Die-Cut; Black Mark; Fan-Fold; Notch (Outside Wound)

450 Meters

450 Meters

450 Meters

450 Meters

1.6" - 4.3" (40 - 110 mm)

1.6" - 4.3" (40 - 110 mm)

1.6" - 4.3" (40 - 110 mm)

1.6" - 4.3" (40 - 110 mm)

1" - 3" (25.4 - 76.2 mm)

1" - 3" (25.4 - 76.2 mm)

1" - 3" (25.4 - 76.2 mm)

1" - 3" (25.4 - 76.2 mm)

0.2" (5 mm)

0.2" (5 mm)

0.2" (5 mm)

0.2" (5 mm)

Die-cast based print mechanism/Metal cover with large clear media view window

Die-cast based print mechanism/Metal cover with large clear media view window

Die-cast based print mechanism/Metal cover with large clear media view window

Die-cast based print mechanism/Metal cover with large clear media view window

TSPL-EZD

TSPL-EZD

TSPL-EZD

TSPL-EZD
{[{ key }]}
{[{ value.title }]}
{[{ value._date }]}
{[{ value._size }]}
Similar Products
Featuring our fastest print speeds ever, these printers are made to boost productivity and are ideal for applications that include…
Take a step into a new generation of smaller industrial barcode label printers that are designed to fit into more work areas. They…
This series features one of the best print qualities TSC has ever offered in a wide web printer thanks to new printhead technology…