Must-Have Thermal Printing Solutions for Automotive Labeling Applications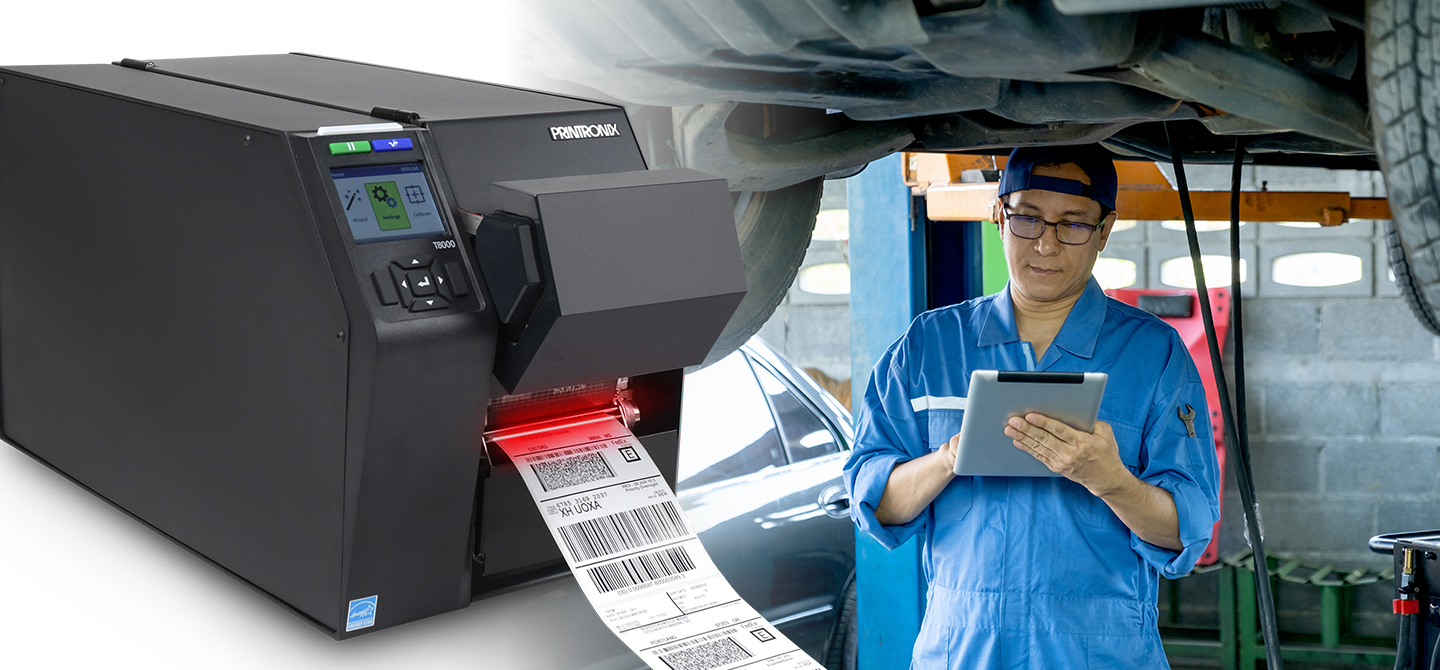 Like many other industries, the automotive industry has been greatly affected by the unpredictability of the supply chain. While there are still many challenges ahead, like the increased need for visibility and the recovery of the semiconductor shortage, the industry continues to adjust for the better. As automotive production requirements continue to evolve, our printers and technology will rise to meet these challenges. It is estimated that around one square meter of labels goes into each car, meaning automotive manufacturers and their suppliers print massive amounts of labels daily. Not only do they need reliable and durable thermal labels for the parts, but they need the ability to print high-quality labels on demand. We understand how integral labels are for the automotive industry and are pleased to offer thermal printing solutions to meet their needs. Let's explore them below.
Mobile Thermal Printing Solutions
Quality inspection labels are crucial in the automotive industry. In order to ensure the best automotive products are moving throughout the supply chain, quality inspection is key. Our mobile printers make sure you get the job done while moving through the warehouse floor. The durable Alpha-30L and Alpha-40L mobile label printers are designed to withstand tough printing environments as they meet military-grade MIL-STD-810 standards for drop resistance. Their wearable accessories allow for on-demand hands-free printing. This is ideal for automotive manufacturing where printing may be needed at the user's location.
The Alpha-30L and Alpha-40L have smart battery features that ensure they last the entire shift and make it easy for you to monitor their battery life while on the go. With less time stopping to charge, your just-in-time manufacturing can run seamlessly. As downtime is not an option on a busy production floor, assembly line manufacturing requires the highest quality and dependability in printers. Our mobile printers are designed to go the extra mile for these enterprises.
Advanced Tracking and Tracing Solutions
Just-in-time manufacturing requires high levels of visibility with their products. To ensure that production runs without any stops and that all products are where they are needed when they are needed, advanced tracking and tracing solutions are necessary. According to David Parkinson, managing director of Barcode-IT, a UK-based barcode technology supplier, "it's a catastrophe if a part is not there or wrong." Having to halt the production line is an expensive mistake to be avoided at all costs. Even though barcoding is a common, cost-effective solution for tracking, RFID technology is quicker to use and goes farther than a printed barcode as it can enable non-line-of-sight data capture. This is ideal for the automotive industry as there are multiple moving parts that need to be accounted for at any given time. Not only at the receiving dock but also throughout the warehouse at the various production lines.
Our award-winning T6000e offers top-of-the-line RFID high-speed encoding abilities. Available on the 4-inch and 6-inch models, the T6000e RFID thermal printer can print and encode on both standard RFID labels and on-metal tags. For ease of integration, the T6000e supports most major brands of RFID chips, inlays, and tags as well as major thermal printer languages.
Automated Barcode Inspection Solutions
Automotive manufacturing is a delicately balanced ecosystem. Each automobile requires hundreds of components, making vehicle assembly an intricate dance of ensuring the right component is available at the right time in the right place. At the heart of the action is the receiving dock where incoming components from dozens of different suppliers are received, checked in, and routed to the point where they are needed. This entire process is either supported or hampered by the barcodes on the pallet label that contain critical information. Marko Vrbnjak, product marketing manager at NiceLabel emphasizes, "For automotive manufacturers, only a faulty part is worse than a labeling error."
To assure carton and pallet labels can be scanned, it is best practice to inspect every barcode label before it leaves the warehouse. The ideal solution is to use ODV-2D barcode verification and validation which can automatically inspect every barcode on every label as it is printed. Barcode inspection eliminates the need for operator intervention and for extra offline equipment. When a bad barcode is detected, the printer automatically overstrikes the entire label and reprints a new label. With the T6000e 4-inch printer model, the ODV-2D solution can also work seamlessly with RFID to provide a unique combination of encoding and label inspection, unmatched by any other printer vendor.
With top-of-the-line industrial performance, ease of use, and 100% verifiable output, the T8000 exceeds the requirements of the most demanding mission-critical manufacturing and distribution operations. Now available with 6-inch ODV-2D barcode inspection, ideal for wide labels used in the automotive industry. Additionally, it's compatible with all major thermal printer languages, as well as Postscript and PDF.
High-Quality Labeling Solutions
Selecting the right labeling equipment impacts the overall quality of your products.  Our Genuine Supplies experts will work with you to identify the right labeling materials for your needs and make sure you're getting them at the most cost-effective price available. We provide more than just printers and supplies for your production line — we become your thermal print solutions partner.
For more information about our thermal printing solutions for the automotive industry, check out our website or contact your local TSC Printronix Auto ID sales representative.