2022 Year in Review: New Thermal Printing Solutions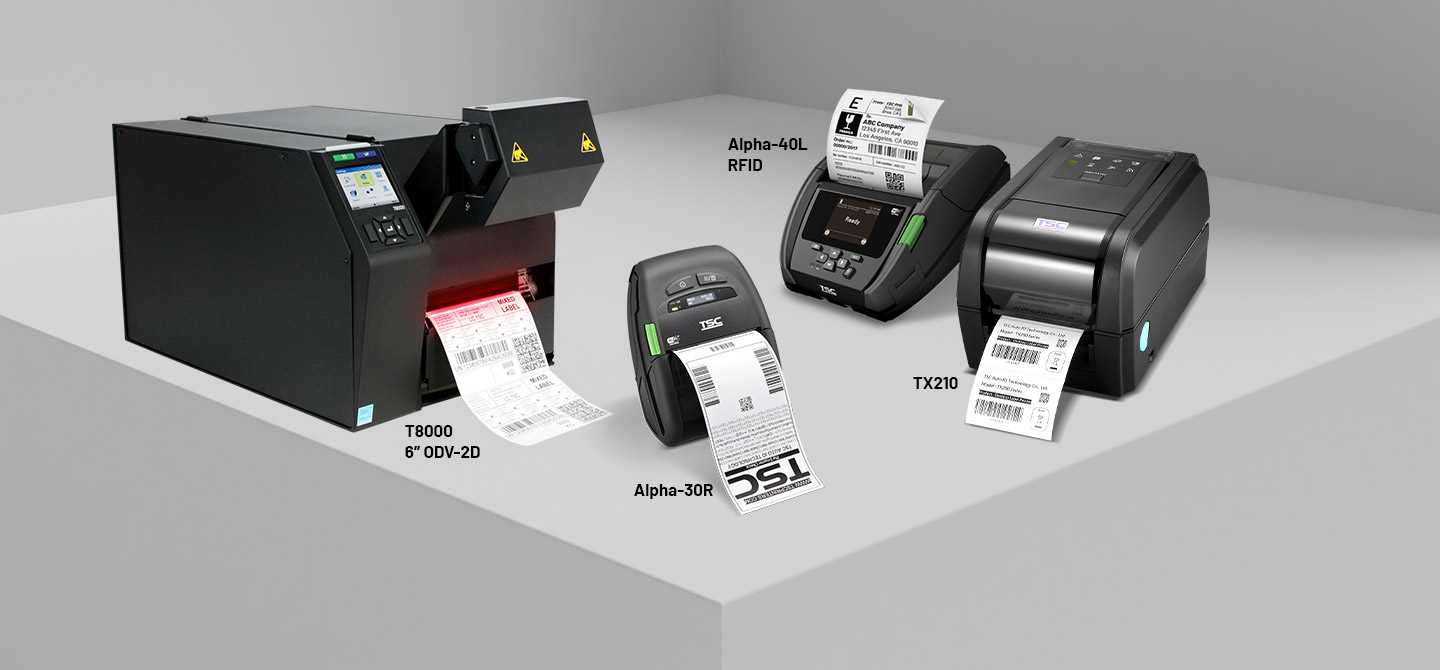 Another year has gone by and we're proud to be your barcode and RFID label printing experts. We pride ourselves in offering a diverse selection of thermal printing solutions. In 2022, we were able to expand our mobile printer line with two new mobile barcode label printers. Continuously improving, we introduced new product innovations and upgrades to support your increased business requirements for barcode inspection, plus RFID media handling and encodings.
Before we step into the bright horizon of possibility that is 2023, let's take a moment to look back on 2022 and see what we were able to accomplish with our customers, our team, and our partner's support.
New Mobile Printers
This year we launched two new mobile thermal printers: the Alpha-30R 3-Inch performance mobile printer and the Alpha-40L RFID mobile printer. 
Our newest addition to the Alpha Series Performance mobile thermal printer lineup is the Alpha-30R. Designed with advanced technology and a full line of accessories that can be worn comfortably all day for printing receipts or barcode labels on-demand. The compact and rugged design boosts productivity in a range of environments, including retail, logistics, healthcare, manufacturing, and more.
The innovative Alpha-30R features two models: basic and premium. The basic model offers support for receipt media, either in a continuous mode or black mark to find top of form, while the premium model offers a gap and black mark sensor to support a variety of receipt and label media. Both basic and premium models support linerless media. Compact and efficient with a Smart Battery, the Alpha-30R is equipped with seamless wireless capabilities so your staff can effectively print from anywhere there's a connection.
The Alpha-40L RFID Mobile Printer expands coverage for a broad range of applications across various industries. The mobile printer is RAIN UHF compliant, user-friendly, heavy-duty, and drop-resistant to enhance worker mobility while printing on the go in challenging work environments. Users can now print and encode RFID labels from the palm of their hand and have advanced asset tracking and tracing to boost productivity in manufacturing, transportation and logistics, healthcare, food and beverage, and retail industries.
Product Improvements and Updates
How do you make something that's already good, even better? You start with a solid foundation. This past year, we upgraded our popular TX Desktop Series printers with the TX210. The printer construction features a rugged double-wall design that is stronger and more durable than other thermal transfer mechanisms on the market. Its strong motor is powerful enough to handle a 300-meter-long ribbon. The large 300-meter ribbon supply on a one-inch core saves time and money by minimizing the time spent refilling the supply so you can keep working without interruptions.
The TX210 upgrades also include better Wi-Fi and Bluetooth® capabilities, that allow for remote printer management options as well as an improved control panel for maximum usability. The new Wi-Fi and Bluetooth® combo radio option expand the printer's connectivity abilities and allow you to say goodbye to the cumbersome ethernet cable and enjoy more space on your desktop.
Improvements to Our Enterprise Printers
We added automated barcode inspection for 6-inch-wide labels, helping automotive, retail, medical, and other industry suppliers comply with industry standards. We also expanded our award-winning T6000e Enterprise Industrial RFID Printers, which were upgraded to enable broader tag printing capabilities, such as on-metal tags up to 2.2mm.
The T8000 enterprise-grade ODV-2D enhancements now are equipped for 6-inch wide barcode label inspection. This width is required for several standard label formats in the automotive, retail, medical device, and other industries.
The T6000e Enterprise Industrial RFID Printers were upgraded as well to enable printing and encoding of RFID tags up to 2.2mm thick. The T6000e can now support a wider suite of tags giving more access to the on-metal asset tagging market.
Our printer upgrades create more peace of mind for your company's productivity and compliance. Expanded RFID tag capabilities mean greater capacity and flexibility to handle a wide range of media materials.
Whether you need a desktop or mobile printer, RFID, or barcode inspection options, we've got you covered. We've grown tremendously this year and look forward to the new solutions we'll introduce in 2023. Continue to check our blog for the latest product information. 
Thanks again for helping us succeed in 2022.